If you've been coming to class for a while, you may be considering getting your own yoga equipment. Or you may be wondering why you would bother, since the studio is equipped with everything you need.
Of course the studio equipment is there to be used, but having your own yoga gear is great for your practice. Here's why:
Hygiene
We don't need to remind you at this time that good personal hygiene is the best way to safeguard your health. If you have your own equipment, you are in control of when and how you wash it and you don't have to worry about who might have sneezed on the studio mat in the class before you.
Safety
Listening to your body is the number one tip for preventing yoga injury, and correct use of props is probably number two. You don't need props to practice yoga, but used properly they can take the pressure off the pose, allowing you to explore correct alignment with the support you need, thus deepening and improving your practice. The mat itself is a prop, providing grip and stability. Props are also great for when you're practicing at home without the teacher's eyes keeping a watch on your posture and safety. Which leads us to …
Yoga Anywhere
Your own yoga gear means you can take yoga anywhere, especially when it all stows away so neatly in a tote bag that fits your mat and props. Turn your living room into your personal yoga studio. Take your bag for road trips, work travel, holidays, down to the park – wherever you like! If you're flying, having a yoga mat with you will be well worth the hassle of carrying it on board, especially if you have long layovers. Your body will thank you when you a) can practice some sequences to unkink after several hours in a plane and b) have somewhere to lie flat or lounge with a book that isn't airport gate seating!
Energy Management
If you've never had your own mat, you might be surprised at how your mat becomes your personal, portable yoga 'space'. It seems to take on the energy of your yoga, giving you a groundedness and sense of connection to your practice. You unroll your mat, step upon it and begin. It is an excellent tool for remaining focussed on your practice for as long as you are on your mat. We promote taking yoga 'off the mat' all the time, for many good reasons, but to some extent you can only take yoga off the mat if there was something on it to start with. We'll let you ponder and reflect on that …
Safe & Ethical Equipment
There are many sources of yoga and fitness equipment available, ranging from cheap plastic mats all the way up to personalised mats with your own designs printed on them in myriad materials. Some are obviously more sustainable, ethical or better for your health than others, and it's worth doing your research or going to a supplier you trust. You don't want to be breathing in all sorts of toxic plastics and harsh chemical dyes, so if you're using one of those cheap plastic mats or a synthetic dyed blanket and you've decided yoga is something you are committed to, consider investing in a healthier option. Your body will feel even better after a yoga session, and the earth will thank you for not contributing to the plastic problem.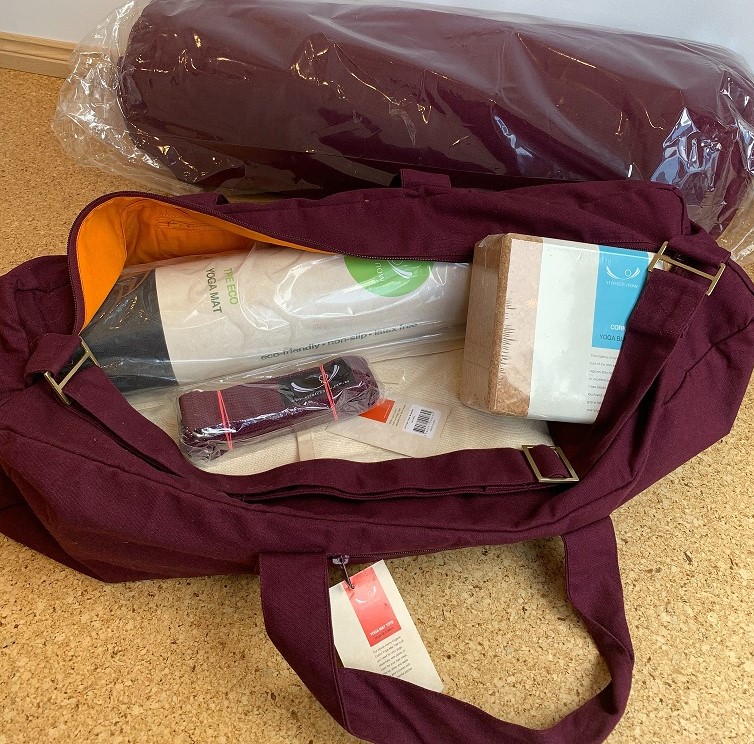 Promotes Practice
All of these points boil down to one thing: they make yoga more accessible to you. If you are sick with a cold, you can stay home from class and still practice in a special space, or if you feel fine but there's a flu going around, you know you'll be pretty safe if you still go to class. If you are travelling, you can take your yoga with you. Your practice will be safer if you have some key props and know how to use them. You have a private, portable yoga space calling to you all the time. And you know what each item is made of, so you know the organic cotton blanket is waiting to hug you in relaxation and your mat isn't releasing any unpleasant or potentially toxic particles.
If you are thinking of purchasing new yoga equipment and aren't sure where to start or what's good, simply ask here or in class and we'll help you out 🙂
Namaste,
Sarah & Kel