Sacred Self Care, that's what I call it. Precious time away from your usual environment to be by yourself. To make space for delving deeply into what comes up when we go within. Not for the faint-hearted, this is the real work where the treasure is revealed as we uncover the layers that we didn't even know were there.
For some years I have been meaning to take myself away for some sacred self-care. This year I made it happen. Three nights away in the Southern Forest in a chalet by a lake in the bush with me, myself, and I. It was transformational in many ways.
I left home, car loaded with a yoga mat, bolster, blankets, blocks – all the things for some restorative practice – along with my flute and drum, my Shirodhara machine, journals, and pens. I put out to the universe to give me signs along the way. Be careful what you ask for (I advise in hindsight) as I was taken off the beaten track and through the forest to get to my destination, at times wondering if I should have listened to Google Maps at all! It was very wet already and still raining as I negotiated dirt forest tracks, washouts, and huge potholes. I trusted the process and eventually came back out on a main road that led me to my destination. A little shortcut perhaps, shorter as the crow flies but certainly not shorter in time taken to transverse the forest detour.
What did my sacred self-care retreat look like?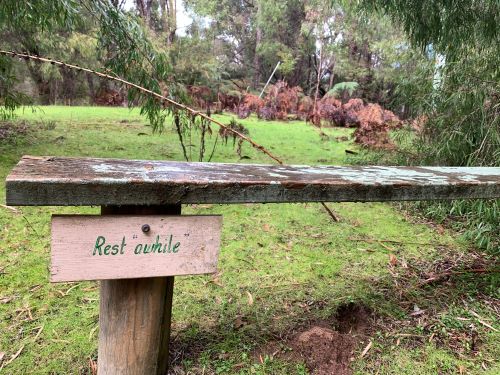 I arrived and moved into my chalet, smudging with sage and then setting the energy I wanted with incense and candles, crystal gridding, and a little rearrangement to fit my yoga mat next to the wood fire. I unpacked, lit the fire, and settled in. Over the time I was there, I put myself onto an ayurveda soup fast and cleanse that was nourishing and easy to do. I had a daily practice of meditation, bush walking, restorative yoga, Shirodhara, journaling, weaving, reading, and each evening soaking in the hot tub on the chalet verandah overlooking the lake. Very nourishing on many levels!
I arrived with a couple of niggling physical ailments that I wanted to give time to and delve into the underlying emotional causes. Transformation took place in the form of one side of my jaw swelling up, leaving me looking like a chipmunk as it got bigger each day! It wasn't painful and I knew I was moving energy through my body. The message I got about this was, in a nutshell, I was not tasting the sweetness of life. I reflected and journaled on this and realised how I had been striving too hard, doing too much, and missing out on the simple pleasures of a sweet life. Why did I need my jaw to swell up so much? So that I got the message loud and clear – let the sweetness in.
One very loud message became clear: you don't know how much you are holding until you make space to let it go a little. It can be overwhelming at first as you realise just how much you're holding. Perhaps this is why many don't venture into the realm of sacred self-care. There isn't anything glamourous about it, but it is vital work.
My reflections for anyone wanting to delve deeper are these:
Take time to honour the most sacred – You
Take time to be with yourself in nature
Self-reflection – journaling and releasing word by word
Self-nourishment of body, mind, heart, and soul
Be gentle and kind to yourself
Take it breath by breath, relaxation by relaxation, nature walk by nature walk
Honouring the most sacred – You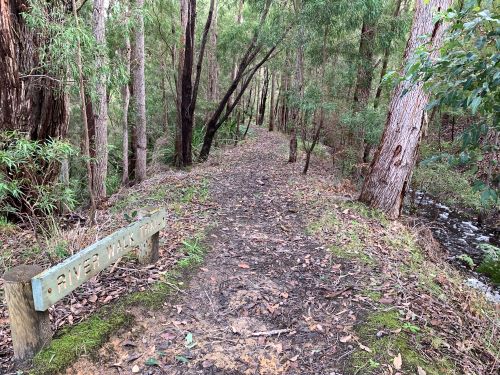 Remember I wrote about my forest detour? The message I took away from that blatant sign was this: step out of your comfort zone, get off the beaten track, go where others wouldn't venture, and be open to wider perspectives. Let your mind open and trust the process.
This is sacred self-care, the deep diving into the hard stuff, the allowing of what needs to be expressed so you get the message. The acceptance of and reflection in letting go of the lesson. It's all about the inner journey, the continual uncovering and making space for what is seeking to emerge as your truth.
What is seeking to emerge for you? Let me know in the comments below or by reply email if you have experienced similar transformations.
It is in the sharing that we make meaning of life and help each other flourish in these ever changing times.
Namaste
Sarah