The Coral Coast is calling and I have a two week break starting Friday 13th October so Nic and I are heading off for some fun in the sun. And I'm really hoping it is not going to be too hot!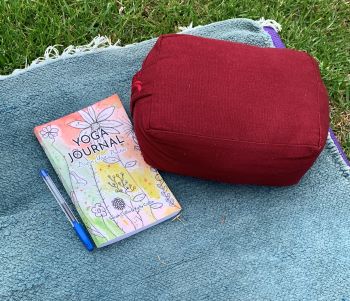 One of the things l like best about our camping holidays is time in nature to roll out my yoga mat and do whatever I feel like for however long I like. I also take the opportunity to explore a little deeper into myself by journaling what I practice. I love going back and reading what I wrote last time and seeing what's changed. It is a great way of getting to know yourself more.
"What lies behind us and what lies before us are tiny matters, compared to what lies within us."

Ralph Waldo Emerson
I enjoy the unstructured time to reconnect with nature and I find that it is nature that helps us to slow down and unwind from our everyday patterns of doing. I take with me my mobile painting kit so that I can journal with colour and represent the environment in my visual art journal and this too is a fun thing to do. Especially looking back on pages created from earlier trips and how I captured them. Jumping into my mind right now is the urge to say to you, but wait, I am no artist! However I am pleased to know that I have worked on this and now happily put brush into paint and paint onto paper for the mere joy of playing with colour regardless of what ends up on the page! The journey of acceptance of myself as an artist of my own life has been a long one and only recently have I come to peace with this. I too often hear people say that they were told they were no good at art or drawing or music, any of the creative arts it seems, have been shut down to many people because of judgement. If this has been your experience I hope you can see yourself as the artist of your life and create it anyway you like.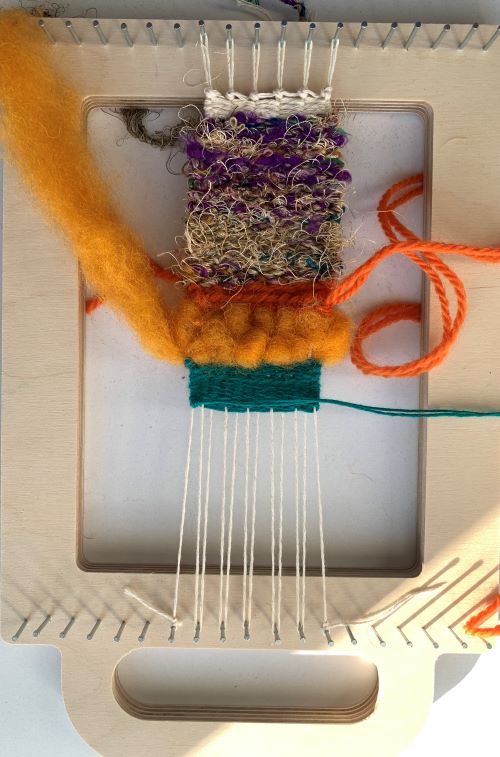 For me, holidays allow time to pursue the creative arts and this year I have found a mini loom. You may or may not know that I dabble in small weaving projects and whatever I make throughout the year I make available for sale at the Heart Song annual fair. Well this year I am gong to see what nature inspires on the loom. Honestly it really is a mini loom, the photo above shows my current project which is only 7cm wide, that will give you an idea of it being mini! Anyway I am going to have some fun with it on the road and you may or may not see the results at the fair on Sunday November 5th.
So my days will look something like this; rising early to feel and enjoy the sunrise, yoga in nature, breakfast that is more like brunch then maybe a kayak in the ocean, a swim then back to camp for some creative pursuits, napping, reading then catching the sunset for drinks and nibbles. Finishing with dinner and star gazing or playing a game. Sounds good to me. What do you do when you go on holiday? How do you capture your holiday memories? Do you get creative when you have time off? I'd love to hear how you recharge your batteries and what sort of holiday you like the most.
Namaste
Sarah