Sarah's latest baked delight for her events is a Lime Pistachio Cake adapted from a Donna Hay recipe. We haven't changed much, just gone for a healthier sugar option. Sarah made it with rapadura; Kel with coconut sugar. Both worked beautifully, creating a rich, moist, golden-brown loaf.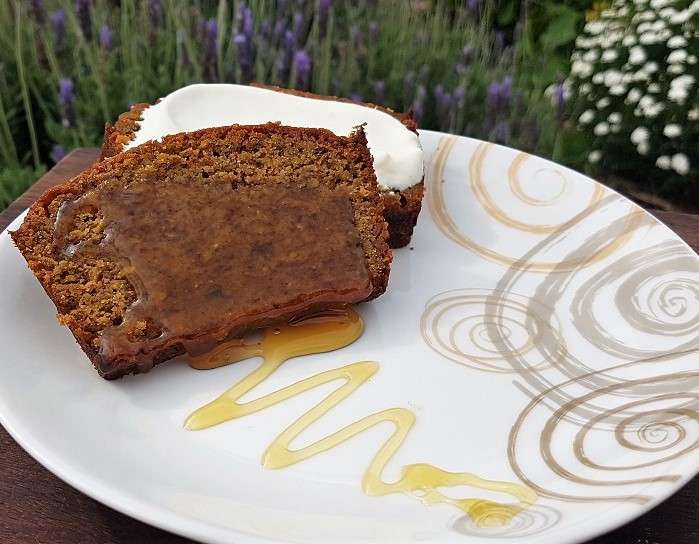 INGREDIENTS
150g unsalted butter, softened
¾ C (165g) rapadura or coconut sugar
1 Tbsp finely grated lime rind
1 tsp vanilla extract
4 free range eggs at room temperature
1½ C (180g) almond meal*
1 C (130g) pistachio meal*
Raw honey to serve
*You can grind your own nuts to a meal in a food processor. Just be careful not to process for too long, or you'll end up with nut butter!
METHOD
Grease a 29cm x 7cm x 8cm loaf tin and line with baking paper. Preheat oven to 160° Celsius.
Place the butter, sugar, lime rind and vanilla in a bowl and beat with an electric beater until pale and creamy, about 10 minutes.
Scrape down the sides of the bowl and add the eggs one at a time, beating well after each addition. Beat for another 3-4 minutes until well combined.
Fold in the almond and pistachio meals.
Spoon the batter into the tin and smooth the top with a knife or spatula. Bake for 1 hour – 1 hour 10 minutes until a skewer comes out with just a few crumbs attached.
Allow to cool in the tin.
Drizzle with honey to serve. You may also add a dollop of Greek yoghurt.
—
Downloadable recipe here Lime Pistachio Cake
Tips from Kel:
Don't think you can cheat the cleaning process (because cleaning food processors is a chore, am I right?!) by using a coffee grinder to make pistachio meal. You can't. Use the food processor. Let Kel be the only one to make that foolish mistake. Sarah probably made this in a Thermomix so that would work too, and apparently they are easy to clean and care for and work perfectly every time if you speak nicely to them.
You can probably substitute rice malt syrup for the sugar if you want low-fructose, but I haven't tested it. The batter should be pretty thick, so if you do use the syrup, perhaps add a couple of extra tablespoons of nut meal. Share your experiments in the comments!
If you have ideas about frosting it with something delicious (Google 'coconut frosting' for ideas!) do it straight away. Don't wait. I waited. And the next day, the cake was mysteriously gone. Guess I don't need to bother with frosting after all.