Meditation Class – Studio
Register for a term of weekly meditation classes at the Heart Song Studio
Live Stream Classes
$160.00
Register for a term of live stream classes and attend as many as you want! Tuesday 6.45am Meditation • Wednesday 5.30pm Yoga • Friday 9.15am Yoga • Book now for Term 5
"By the practice of meditation you will find that you are carrying within your heart a portable paradise." – Paramahansa Yogananda
Why meditate?
To go beyond the chatter of the mind and explore our true nature, the true essence of who we are when we peel away the layers and labels we take on in everyday life.
Meditation is a process and Sarah will take you on a journey that incorporates:
Gentle, effective movements to release tension from the body
Breathing techniques to switch on the relaxation response and calm the mind
Concentration exercises to train your mind and bring you into the present moment with full awareness
You will be guided through a number of meditation techniques that will empower you to take charge of your mind, enabling balance and inner calm and giving you tools to use in everyday life.
These are life-changing techniques that don't rely on technology or the latest gadget to take you to a quiet place. Once you have learnt these practices they are yours for life and available to you at all times.
Click on the Book Now tab to the right to see available classes. Registrations for live stream classes are open to all. Heart Song Studio classes are by application only; if this is your first time here, please contact us via the details at the bottom of this page to discuss class availability and what will best suit your needs.
If you've been to the studio before, or are looking for live stream options, click on Book Now to the right to register for your class!
Meditation Class
The weekly meditation classes are designed for those who want to establish a regular, structured practice and share it with like-minded people. Sarah will guide you on your meditative journey and offer support to help you achieve inner balance. If you have never meditated and aren't sure if the class is for you, book a private session with Sarah to catch up before you start.
Beginner Course
This is a course for total beginners who want to learn how to meditate. These courses now run in a private studio space in Australind and are limited to only seven people so you are getting a very personal learning experience. In this six-week course you will learn: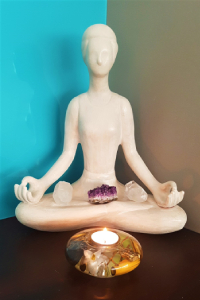 How to re-balance your energy with the prana kriyas (potent breathing and movement techniques that transform)
The art of deep relaxation
How to park your body for your personal optimal sitting position either in a chair or on the floor
A variety of concentration techniques
How to connect with your heart and create heart coherence
Powerful breathing techniques
Comprehensive handouts and recordings are included so you have the resources to continue your practices in your daily life. Each session concludes with the opportunity to share in a cup of tea and chocolate.
This course runs on demand. If you wish to express your interest, please contact us. Alternatively you may book private sessions with Sarah (above).
Intermediate Course
Once you've established a routine with what you have learnt in the beginner course and you are comfortable with the breathing techniques taught in that course, you may like to move on to deeper, more challenging practices. In the intermediate course, you will: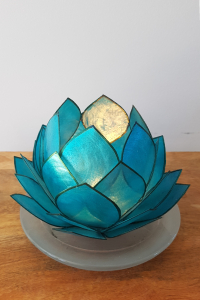 Deepen your experience of the prana kriyas
Learn more advanced breathing techniques such as the Three Fold Breath
Deepen your understanding of the koshas, the energy layers of our being, enabling you to manage your energy input and output
Learn the powerful Shanti Prana Dru Meditation practice
At this level you begin to sit for longer periods of time with less guidance and visualisation instruction, allowing you to spend longer in the still point and feel deeper effects.
The next intermediate course will run on demand. Please get in touch if you would like to register your interest.
"I recommend the meditation course to anyone who wants more peace and calm in their daily life … I feel so much more energised and ready for the day." — Lorraine
What to bring/wear to your meditation class:
Water bottle
Mat if you prefer to use your own, or a towel to place over the studio mat is nice
Meditation cushion if you prefer to use your own
Comfortable clothes that don't restrict your movement
The HA Studio is fully equipped with everything you need but you are welcome to bring your own equipment if you prefer.